Situation: you are going to renovate your kitchen, but you do not want to do it in bright colors, which make it look very cheap and make the whole interior tasteless. We know the solution for you – you can do your kitchen in dark gray colors. Firstly, the gray colors are about style and tranquility, they look very harmonious and modern in the interior.
Secondly, the gray surfaces are more practical than white or, for example, dark brown, because they are less noticeable for dust, grease, stains and dirt. In addition, even if you do not like the dark gray kitchen entirely, you can decorate with this color only particularly marginal areas. For kitchen space in dark gray, smooth fronts in modern high-tech or industrial loft designs are suitable. However, let's not say much, we'd rather present to your attention a few really stylish options.
#1 A lovely dark gray kitchen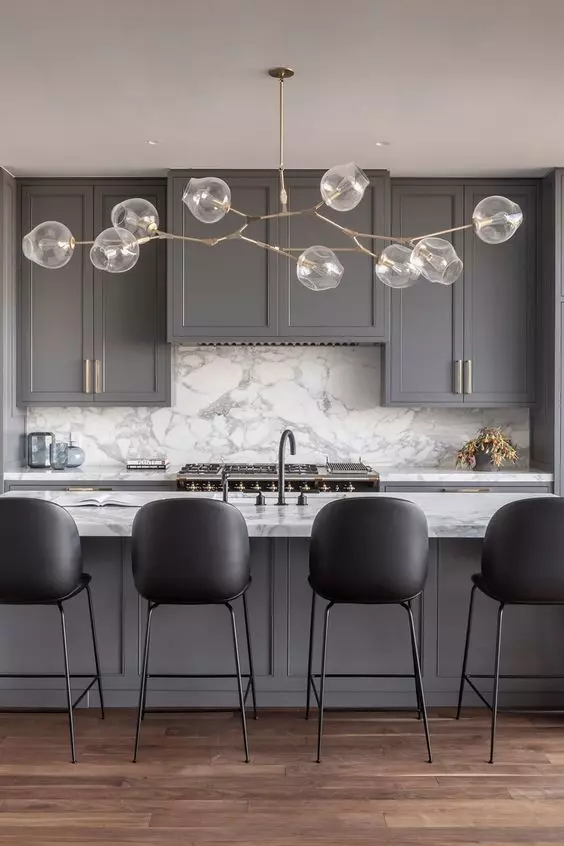 Every housewife dreams of such an elegant and beautiful kitchen, just look how beautiful and harmonious everything is. This dark gray color in no way makes it dull and dull, on the contrary, it looks very fresh and even bright.
The gray cabinets look great with white marble countertops, and the gold elements in the form of the chandelier and cabinet handles perfectly complement the overall picture. Moreover, this kitchen set in dark gray tones allows you to combine kitchen utensils and furniture, which can be in white, black, silver or gold shades. Cooking in such a kitchen will be a pleasure, because everything is perfect in it, every detail and detail.
#2 Large dark gray kitchen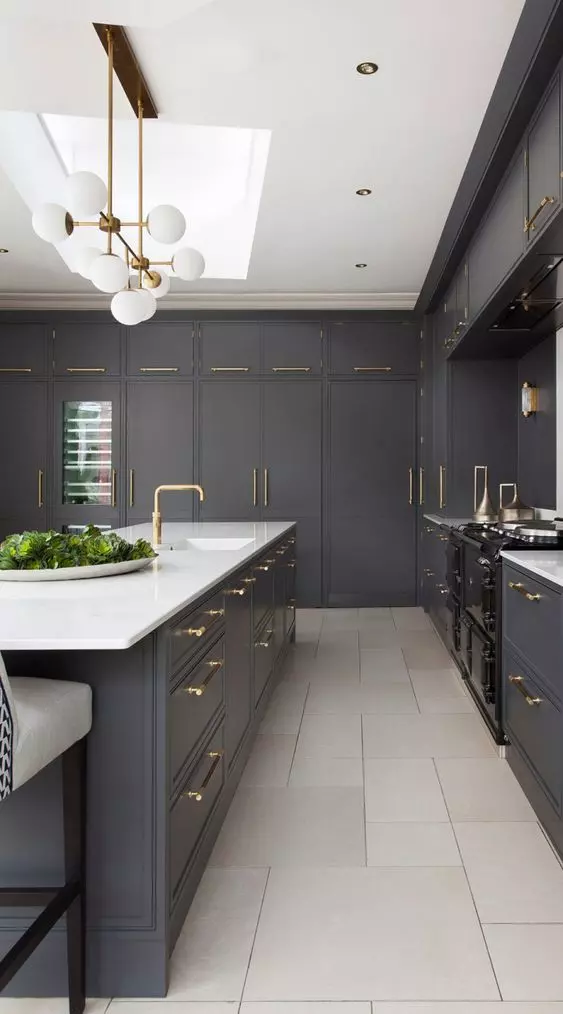 How lucky are people who can afford to make a huge kitchen, and even more so if it's in dark gray tones like this one. Often, when people try to arrange the interior preferably in dark colors, in our case dark gray, they get a visually dim dim dull dark room, but we'll tell you how you can avoid this.
And so, firstly, if you do the walls are dark gray, in our case, the walls are built-in kitchen cabinets, which is very convenient and saves a lot of space, then the ceiling and floor are desirable to make light or even white. So the space is not visually decreased, but on the contrary – is increased. The second factor is the large windows, because then in the kitchen there will be more light, and that will also increase the space.
#3 The gray and gold modern kitchen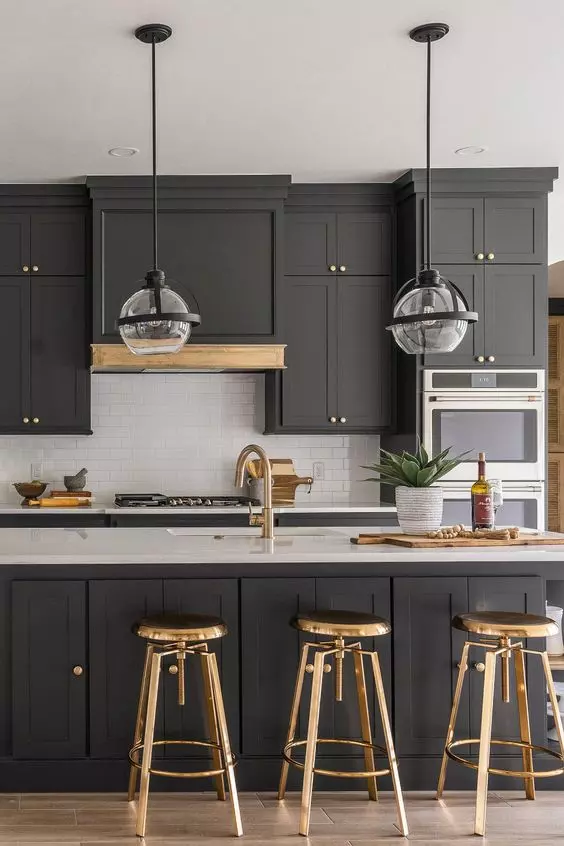 To create a luxurious kitchen interior, you do not need to have an impressive budget and a team of design professionals. It's enough to add a little glitz and understated glamour to the design – and you can do it with gold sparkling elements.
Even the most laconic and austere interior, as in this option, can be enlivened with gold. The fashion for the gold shade will never pass, and dark gray will always be able to enliven and complement it, so you have plenty of opportunities to come up with an exclusive design project of your kitchen, in which you will cook your culinary masterpieces.
#4 A modern gray and white farmhouse kitchen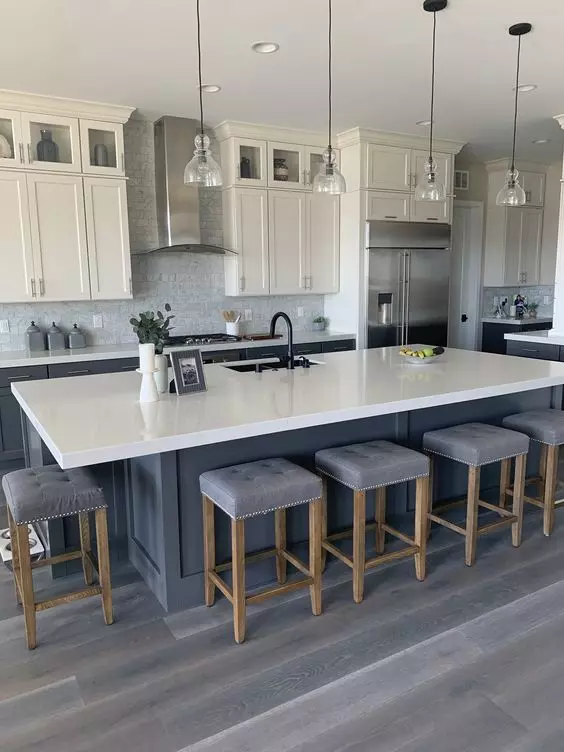 This kitchen looks very stylish and modern, because it combines dark gray and snow white colors, which is a timeless classic and will definitely appeal to all lovers of minimalism. Light upper cabinets are in perfect harmony with the lower dark gray, and white countertops are the love of every housewife.
By the way, even though the gray color is ideal for decorating the bedroom, recreation and relaxation areas, the kitchen, decorated in dark gray will be for you a real recreation area, which will reign a pleasant relaxing atmosphere of coziness and relaxation.
#5 Elegant dark gray kitchen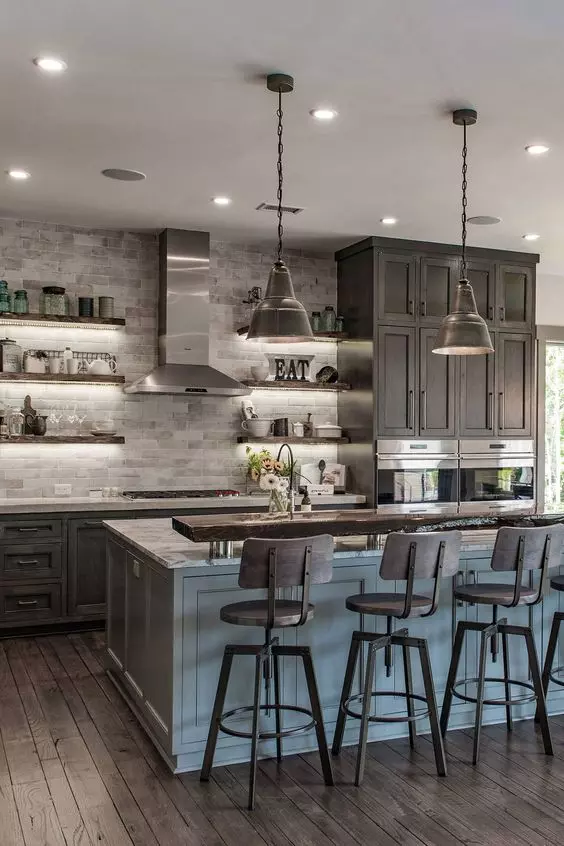 A positive feature of the use of gray in the interior is the fact that the color belongs to the neutral tones: it is neither warm nor cold. For this reason, shades of gray do not strain or bore you. The correct application of tones does not distract and does not cause depressive moods.
There is an opportunity to combine this color with any other color, аnd in this option, you can see a great kitchen set, which is made in the style of stained gray wood. This option of kitchen design in dark gray is very stylish and modern, as well as it does not get dirty quickly, it does not show traces of soot or grease.
#6 Maximum modern dark gray kitchen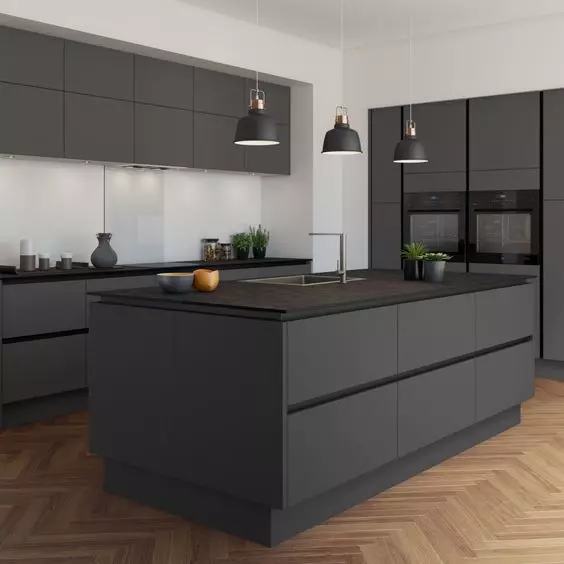 Perhaps this is the most stylish and modern dark gray kitchen of all presented. Choosing a kitchen design using gray as the main color, you need to be careful in selecting the shade and its companions, so that the interior does not turn out dirty.
For example, in this option, the interior is not overloaded and does not look boring, because the kitchen set, which is presented in the photo, is high-tech and very comfortable to use. Accordingly, you will be able to cook your best dishes with comfort and enjoy the view of your kitchen, which will only inspire you to cook your culinary masterpieces. Especially, if you are a fan of minimalism – this kitchen is definitely for you.
#7 Dark gray kitchen with white marble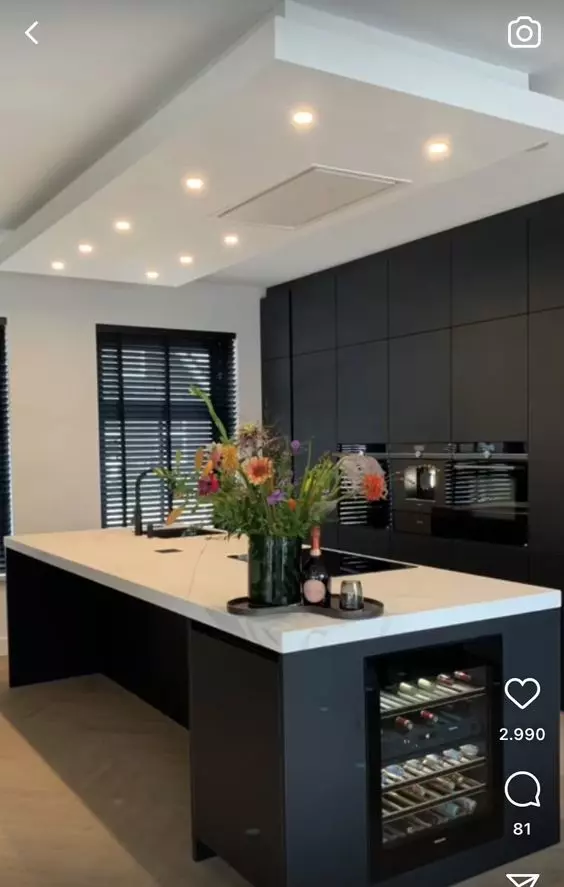 The color of this kitchen is more close to black, but is still a dark gray, so we will also consider this option. In addition to the most convenient organizational drawers, which are perfectly installed so that the joints are not even noticeable.
The white walls, ceiling and marble countertops come in perfect harmony with the dark gray cabinets and drawers. And also in the kitchen set, which is shown in the photo, has in its composition a kitchen island, which is actually an additional work surface, and is present in almost all modern kitchen sets. Minimalist and stylish is the perfect description for this kitchen option.
#8 Dark Grey Shaker Style Kitchen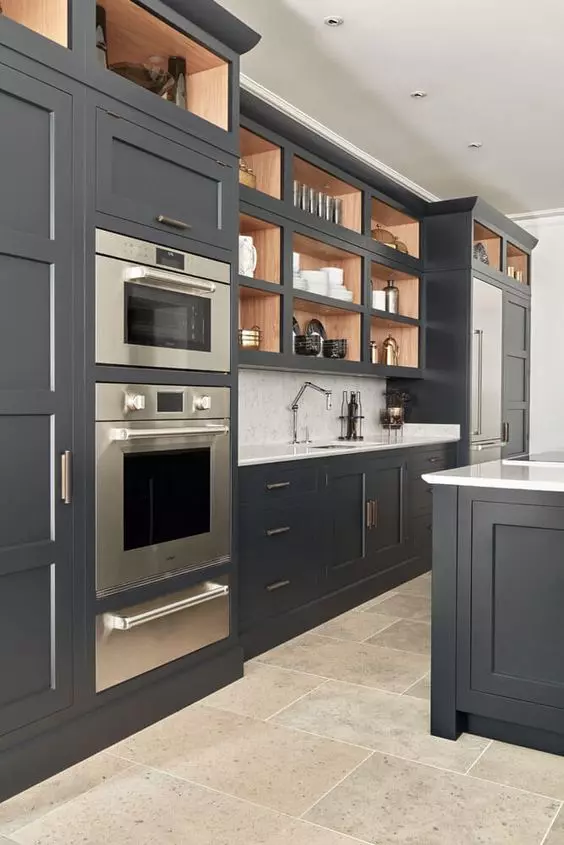 The dark gray shaker style kitchen is a very modern and excellent solution for all lovers of minimalist and beautiful kitchens. The dark gray shelves and cabinets match perfectly with the interior design of the shelves-wooden style. With plenty of shelves and cabinets, you can organize all your kitchen utensils and supplies to make your cooking experience as comfortable and enjoyable as possible. Also, this kitchen set allows you to install a built-in oven, refrigerator and microwave, which is also a great way to save space.
#9 Unusual dark gray elegant kitchen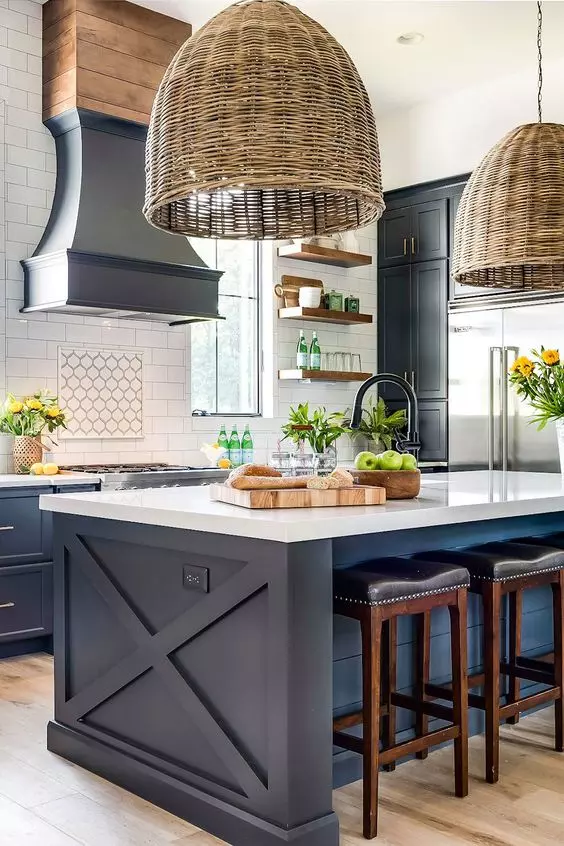 Dark gray is suitable for most apartments and rooms of different functional purposes. But it is important to keep in mind that gray can be both cool and warm. This option, for example, presents the kitchen in a warm gray color, it is not oppressive, not boring and does not weigh down the interior of your kitchen.
As in several previous options, dark gray is perfectly combined with wooden elements, they are presented here as shelves, chairs and other details. This kitchen is not particularly large in size, but nevertheless, it is roomy and contains everything you need for comfortable cooking. And the main feature of this interior is two large straw lamps, which add charm and elegance.
#10 Simple dark gray kitchen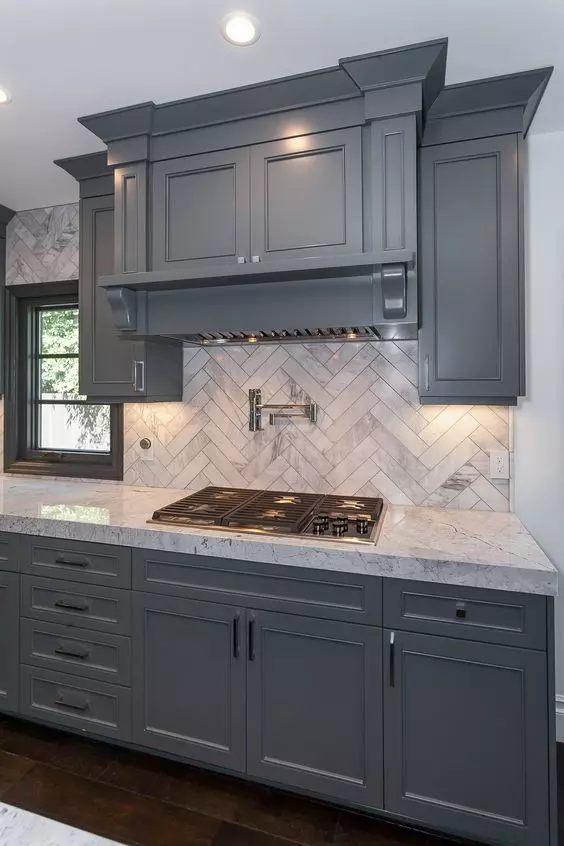 Simplicity in the interior is always very cool and stylish, and in no way cheapens the interior of your kitchen. Since this color is well complemented by bright accents, you can visually make the room more interesting, this is in case you suddenly want to make the kitchen more interesting and brighter.
The main advantage of such a gray simple kitchen is that it is as minimalistic as possible, there are absolutely no unnecessary details and elements on it. This color seems boring and unattractive, but it is only at first glance, and only with poor lighting, and this option presents a bright quality lighting, so this kitchen is as modern and beautiful as possible.